IBERGRID, now in its 12th edition, headed to the town of Benasque, in Spain. Here it stayed, with the Pyrenees in the background – at an altitude of over 1100 meters – from September 25 to 29, at the Pedro Pascual Science Centre.
It is organized annually by the Spanish National Research Council (CSIC), the Laboratory of Instrumentation and Experimental Particle Physics (LIP) and the National Distributed Computing Infrastructure (INCD).
Between registrations, greetings and reencounters, the auditorium was filled on September 25 for the opening of IBERGRID, the joint project between Portugal and Spain, which coordinates scientific applications, distributed computing infrastructures, cloud computing and data repositories. Isabel Campos, a member of CSIC and the project's representative in Spain, together with Jorge Gomes, from LIP and the Portuguese counterpart, officiated at the start of the conference.
The first day focused on the latest developments in IBERGRID, CSIC and INCD, but if there were any doubts that this partnership goes beyond Iberian borders, this year's conference cleared them away.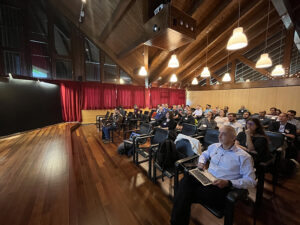 There were numerous contributions from the various partners involved in the project. First of all, there were presentations from the European Open Science Cloud (EOSC) – which is dedicated to supporting scientific research in the European Union – and DT-GEO, which works with Digital Twins.
There was room for debates on the applications of the platform developed in the BigHPC project, the solution for data collection presented by the Italian Institute of Nuclear Physics (INFN), in order to get around the difficulties imposed by the GDPR and, among many others, to discuss the work carried out by the Cantabria Physics Institute, which has designed a platform to support researchers and clinics, in order to improve cancer diagnosis and treatment, using Artificial Intelligence.
This edition also had some new features! For the first time in the history of the conference, there was a session for communication activities. EuroCC was the pioneering project, but the door is now open for future presentations!
Isabel Campos and Jorge Gomes met again on stage on Friday (29) to close IBERGRID 23. Next year, the conference will return to Portugal, but the specific destination has yet to be revealed. We'll soon know where it's headed. We're already counting down to IBERGRID 24!